Hello all!
I have some pretty summery nails for you! They are a bit complicated to explain. It's best to look at the pictures first!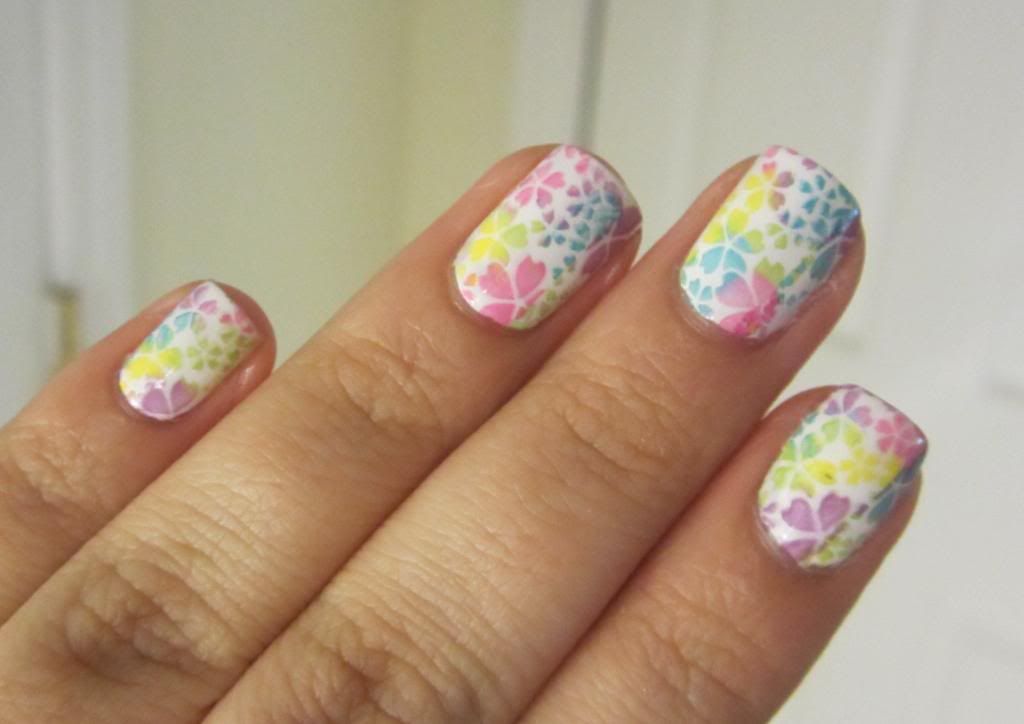 This has a white base of China Glaze Snow. Then I took bundle monster plate BM16, and dropped dots of different nail polishes randomly onto the full nail flower design, scraped it all off and stamped it over the white. The colors I used were China Glaze Tree Hugger (green), Flyin High (blue), Sugar High (pink), GOSH Wild Lilac (purple), and Sally Hansen Insta-Dry yellow. The Tree Hugger is a shimmer, and having a shimmer amongst the cremes gives a nice dimension to it. This will work with any combo of colors and on any full nail plate, so experiment! An autumn colored one with the leaves plate would be awesome for the fall.
Now this technique is not mine, but I can't remember for the life of me where I saw it. If anyone knows, please comment and I will link them. More after the jump!
Up close and personal view of the colors. See the interplay of the green, yellow, pink, purple, and blue. Try to keep your dots of color big so you don't end up with them all mixing and turning brown. Mix up where the colors are and try to balance colors across the hand.
What do you all think? I think it's definitely summery and beachy :)